Spin & Win is an upbeat, fruity online slot that adds to the long list of slot games from Amaya, a renowned gaming software provider in the business. The game has a remarkably incorporated classic theme but with a modern design that every player will love. In this review, you'll learn about the pros and cons of the Spin & Win slot machine that has one pay line and 3 reels, including the amazing bonus features.
The Spinning Theme
When you play the Spin & Win slot machine, you'll notice that it's strikingly similar to the ambiance of a television studio, particularly the famous Wheel of Fortune. So, the shiny lights, gorgeous hostesses, rolling cameras, and the background cheers of the virtual audience are enough to spark a smile on a player's face. The reels are blanketed by the generic classic symbols such as double bars, banknotes, lucky 7s, and triple bars. Being a classic slot with a modern touch sets it apart from the pack.
How to Play – Spinning and Winning
It's no secret that classic slot games were straightforward to play compared to today's contemporary versions that have littered the Internet. With this slot, you get the best of both worlds. It exudes simplicity which means that even the most naïve player in the gaming world can get the hang of it with no complications. The easy rules paint a vivid picture of playing slots at the traditional land-based casinos.
To kick things off, click on the up and down arrows located above the Credit Value option to alter your coin denomination. You can use the Bet One option for coin increments of 1 to your bet. Then, click on the Spin button to commence your gaming session. Alternatively, you can choose Bet Max to place the highest possible wager of 3 coins. Keep in mind that the game's coin denominations range from 0.01, 0.025, 1.0, and 2.0 to 5.00 and are multiplied by a 20-line credit to decide a player's stake. As a result, the lowest and highest bet on each spin is 0.2 coins and 100 coins, respectively.
Despite the Spin & Win slot being a traditional 3-reeled machine, it's far from dull because, rather than spreading out your bet over several paylines, your betting one pay line which means each win is substantial.
The Bonus Features and Unique Symbols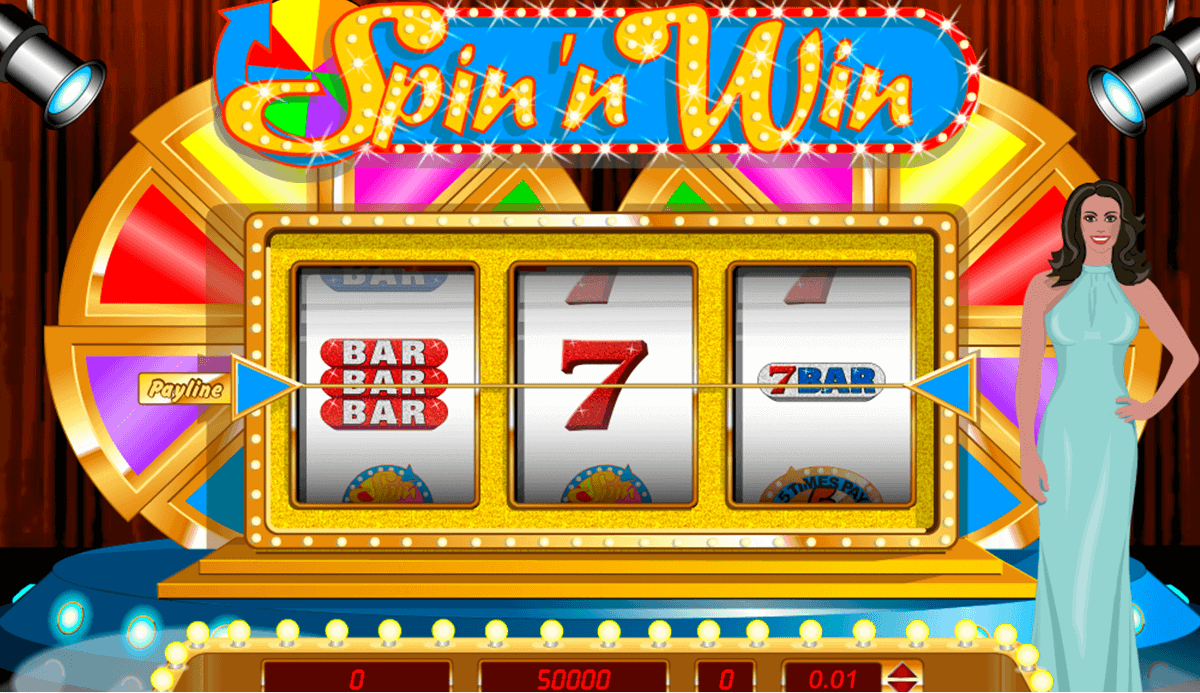 While the game is brightly coloured with a retro vibe, it has more to offer than aesthetics. Let's explore the special symbols and bonus features that can potentially generate life-changing wins.
Bundle of Notes: Landing 1, 2, or 3 bundles of notes on the reels awards you 4, 10, and 20 coins, respectively.
Bar Symbols: When you land a mixed bar, single bar, double bars, and triple bars on the reels, you receive a prize of 10 coins, 20 coins, 40 coins, or 60 coins, respectively.
Lucky 7s: When three Lucky 7s symbols appear in a row, players receive a maximum payout of 120 coins.
Three 5x or Spin & Win symbols: When you land three of either on a pay line, you win the grand prize of 4000 coins which translates to a hefty amount in £ for UK players. Furthermore, the two symbols represent the Spin & Win wilds which means they have the power to replace all other bonus symbols for the formation of winning patterns. The Spin'n Win and 5x symbol can mesh with the other game symbols to award players with 25x their stake.
Spin & Win symbol: Landing three of these symbols in a row on the maximum bet awards you the Spin & Win jackpot.
Spin for Real Money
You can delight in the Spin & Win slot machine for free or with some real money at stake. For the latter, you'll need to head over to an Amaya-powered gaming site or online casino, sign-up with your details then place a cash deposit.
Playing Strategy
By implementing the tips below, you can elevate your chances of winning, despite the absence of free spins.
Take the time to go through the paytable that contains the slot game's details, including the bonus features. Based on that, you can come up with a foolproof playing strategy.
Hone your skills by utilizing the demo version that offers free play before you stake cash.
About Amaya
Founded in Canada in the late 90s, Amaya has evolved to become one of the biggest online gaming companies, worldwide. With branches spread across Europe and America, Amaya offers a broad range of slot machines that have players glued to their screens. Some examples are Emerald Isle, Fortune Teller, Amazon Adventure, Area 21, Wild West, and Zodiac Wilds.
In It to Win It
With the barrage of online slots cropping up in today's digital era, being spoilt for choice is inevitable. However, if you gravitate towards the classics, then Spin & Win slot that has just three reels and one pay line is right up your alley. With bonus features, rewarding symbols, and a progressive jackpot up for grabs, players are in it and win it!
FAQ
Can I play the Spin N Win online slot for free?
Yes! Simply register at an Amaya-powered online casino, and launch the game without any deposit or additional software download required.
Does the slot game have free spins?
No! But, it has other bonus features like multipliers, a progressive jackpot, and wilds that offer players the chance to score substantial wins.
Can I win real money when I play the Spin N Win slot machine?
Yes! If you register at a gaming site powered by Amaya and make a deposit, then you stand a chance of winning real money.
What is the RTP and variance of the Spin N Win online slot game?
The game has an RTP of 91.5% and medium variance. So, you can expect a balanced or medium frequency of winning.
Is the Spin N Win slot machine available on mobile?
Yes! Players can launch the game on their web browsers and delight in the thrill on their Android and iOS tablets or smartphones while they're out and about.